Home-made Salad Dressings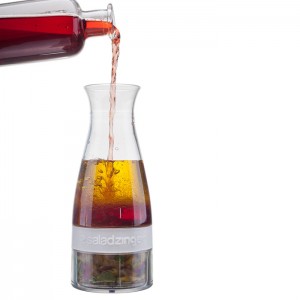 Veggie lovers can shake it up by Zinging tasty dressings using the Salad Zinger. Simply add your ingredients to the grind cup (garlic, onion, citrus, spices, fruit, etc.), pour in olive oil and vinegar, shake, and voila! You have a healthy and delicious homemade dressing. With the Salad Zinger you can make the Italian dressing you always wanted, the orange vinaigrette that will have your guests asking for the recipe, a peach balsamic salad dressing that wows you every time, or whatever else your healthy heart desires.
Keep the butter in the fridge. The Salad Zinger can make flavoured oils and vinegars for dipping, marinating, sautéing, or to add flavour to dishes such as pastas, rice, or potatoes. The possibilities and healthy recipes are only limited to your creativity. Zing!
Just like the kitchen pros, you can create a spicy chipotle chili oil, or fresh ginger-flavoured salad dressings. Drizzle your favourite grilled items – whether steaks, chicken, vegetables, or seafood – all with your Zinger creations. Are you a dipper? Zing garlic and basil with olive oil and balsamic and dip your warm ciabatta bread right in.
The stainless steel bottle has a bottom-mounted grinder that retains the ground pulp of your ingredients but allows the pure extracted flavours to travel through a fine-combed mesh screen and infuse the water. All you need to do is add fresh ingredients, twist, and shake!